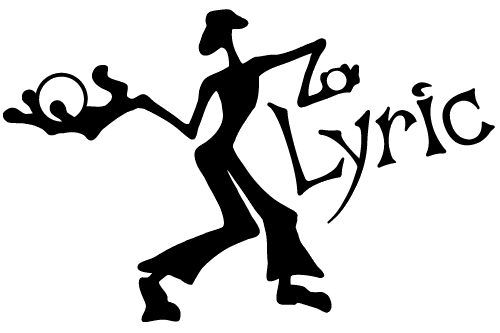 New Day Album Lyrics




*What Can I Do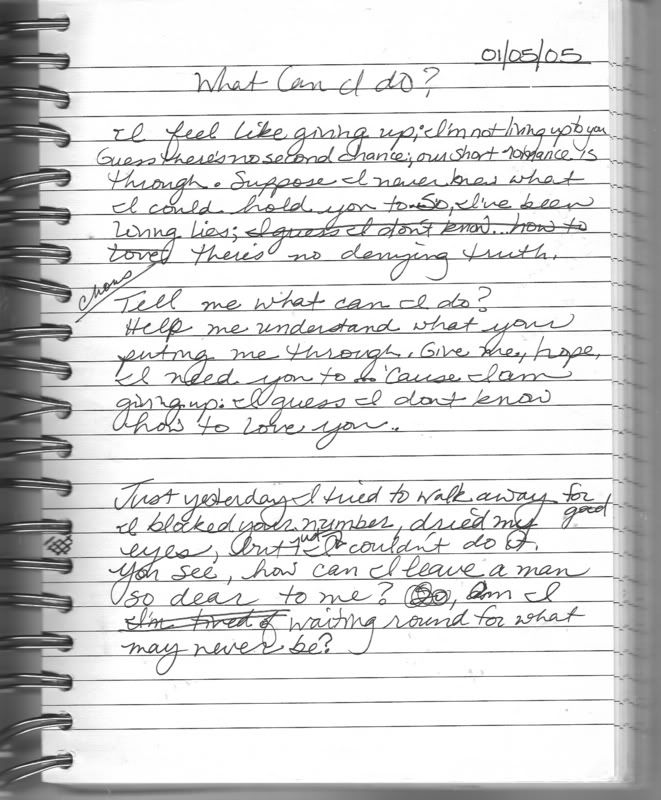 "What Can I do"
© 2005 Rachel Lynn

I feel like giving up, I'm not living up to you
Guess there's no second chance our short romance is through
Suppose I never knew what I could hold you to
So, I've been living lies, there's no denying truth.

Tell me…what can I do?
Help me understand what you're putting me through
Give me hope… I need you to…I feel like giving up.
I guess I don't know… how to love you

Yesterday, I tried to walk away for good.
I blocked your number, dried my eyes…but, I just couldn't.
You see, how can I leave a man so dear to me?
Am I waiting 'round for what may never be?

I called you again on the phone, I know, I can't leave it alone.
But, there's too many things that I need to hear;
Too many things I'm finding unclear.
You told me you loved me; that I made you happy,
you said, not to worry. So, now, tell me how to believe.

I am trying to understand why I can't let you go.
We've barely kissed and we've nothing to show.
But, I stay anyway, 'cause the one thing I know
is my heart and my soul are invested.
Yes, my heart and my soul are invested.



Artist Insight: What Can I Do
Imagine a man in his fifties falling apart in his own world: His money is gone...
his success remains in tact only through his wisdom of craft. Imagine a young
woman searching for a muse: a subject of inspiration and guidance. This is the
story of a powerful and ultimately doomed internet romance.

---
*Undercover Lover


"Undercover Lover"
© 2004 Rachel Lynn

So, you won't call me?
Well, ok. I didn't want it anyway.
What'd you do for me? Not a thang.
Going to tell you what I've got to say.

I was your lover, undercover.
Bet you didn't know 'bout all the other brothers.
I had to lie so that you wouldn't have to suffer.
Thought you could play like you
were different than the others.
Look up, and turn around.
You're going to see who's playing, now.

Don't know how to treat a lady?
What a shame.
Don't say your Ma's the one to blame.
Trying to call me Baby.
Drives me crazy.
Can't say I'd take you even if you changed.

You said you were different:
not the same, not into the game.
Should have trust my premonition:
and it came true
I'm here to tell you.




Artist Insight: Undercover Lover
The main reason why we have 'trust issues' in relationships is because we cannot
trust ourselves: a dangerous cycle in love. I didn't trust myself...and my ego won.



---
*Release Me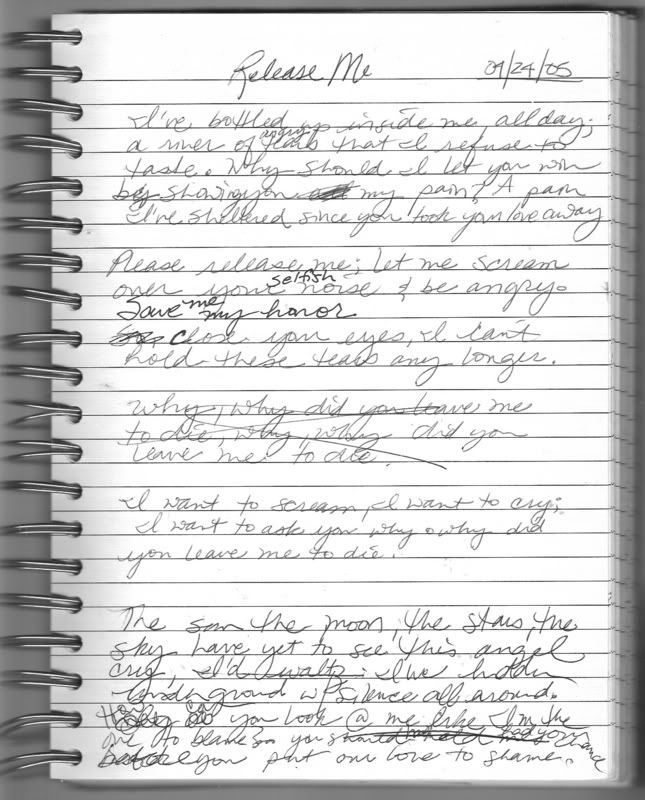 "Release Me"
© 2005 Rachel Lynn

I've bottled up inside me all day,
a river of angry tears that I refuse to taste.
Why should I let you win by showing you my pain;
A pain I've sheltered since you took your love away.

Please release me.
Let me scream over your selfish noise
and be angry. Please save my honor.
Turn away I can't hold these tears any longer.

The sun, the moon, the stars, the sky,
have yet to see this angel cry;
I've hidden underground with silence all around.
How can you look at me like I'm the one to blame?
You had your chance before you put our love to shame.

I need to scream…I need to cry!
And, I must ask you why
oh why did you leave me to die?!



Artist Insight: Release Me
I can't breathe...can't sleep...can't believe how he's turned out to be.
It is the catch 22 of love: when a lover, that has spent all of their energy
convincing you that they are your forever love, leaves the moment you finally
start to believe them.
---
*Shamelessly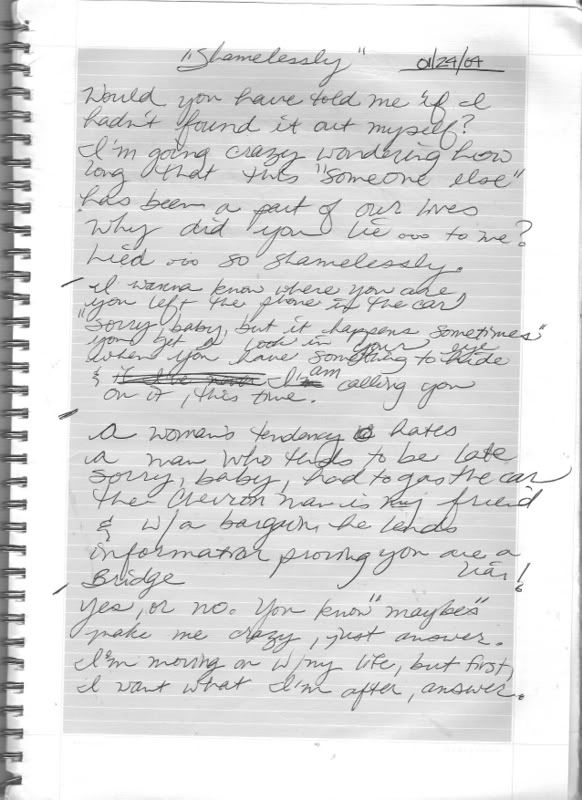 Shamelessly
© 2004 Rachel Lynn

I want to know where you are. You left your phone in the car.
"Sorry, Baby, but it happens sometimes."
You get this look in your eye when you have something to hide
And I am calling you on it this time.

Would you have told me if I hadn't found it out myself?
I'm going crazy wondering how long that this
someone else has been a part of our lives.
Why did you lie to me? Why did you lie to me?
Lie, lie, lie, lie, lie….so shamelessly.
A woman's tendency hates a man who tends to be late.
"Sorry, Honey had to gas up the car."
The Chevron man is my friend and with a bargain he lends
information proving you are a liar

Yes, or no. You know maybe makes me crazy, just answer.
I'm moving on with my life, but first,
I want what I'm after…answer!

Artist Insight: 'Shamelessly'
'How are you girl?' A friend inquires a month after my breakup with the love of
my life. 'When I found out I couldn't believe it!' She continues, 'She is so fake
compared to you!'
'...what?' I whispered in disbelief whilst a whirlwind of memories stormed through
my mind.
'Wait...omigod...you didn't know?' She countered in surprise and embarassment.

---
*Trouble at Home

"Trouble at Home"
© Copyright 2004 Rachel Lynn

Walking down the street all alone,
Shadows talking; they tell me not to go home.
I turn around; I can't go back today.
You see, the shadows know when it's best to stay away.

There's trouble at home, trouble in my mind.
There's nowhere to go, but down;
I can't go back wish I could fly.

Jammin' to the tune of the city.
Shadows scammin'; they say they're out to get me.
I try to run, but I know nowhere to hide.
You see I can't go back; There's no one there to take my side.

I'm running away hoping daylight will save me
and take me away from the trouble I'm in.
The shadows are begging to take me;
they say that the trouble is fun and it's only beginning.
But, I can't go back.



Artist Insight: Trouble at Home
Imagine the scene: a young teenage runaway walking in the dark on an unlit
city sidewalk. They can't see the earth beneath their feet through the tears welling
up in their eyes. There is a decision to be made...yet there is trouble and pain
in either choice they make...so, they continue walking hoping that daylight
will soon come and save them from the lurking shadows. Imagine this. I did.

---
*Torture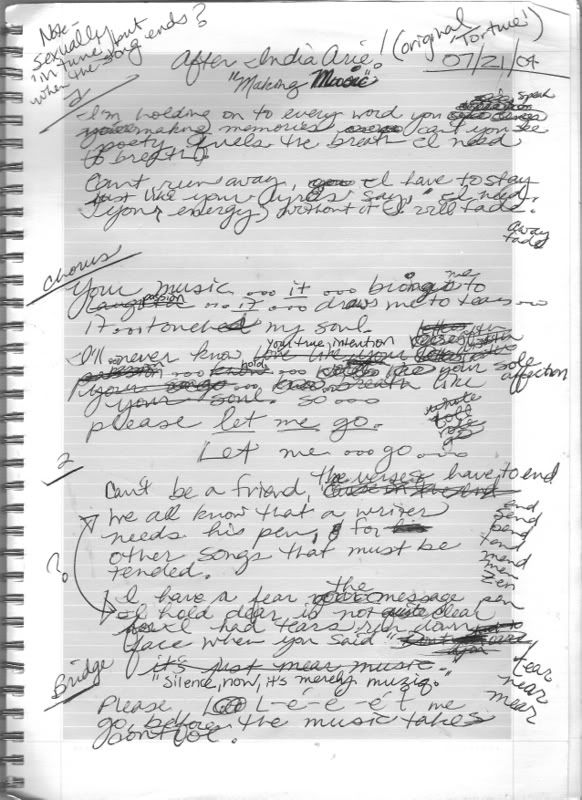 "Torture"
originally 'Making Muziq' (2004)
© 2005 Rachel Lynn

I'm holding on to every word you speak.,
and it's a tragedy; can't you see,
You have me held in your captivity?
Can't run away. I have to stay.
Just like you always say,
"I need your energy, without it I will fade away."

It's torture. You bring me to ecstasy,
draw me to tears, it plays with my soul.
I'll never know your true intention,
hold your sole affection, so please let me go.

Can't be your friend; the madness has to end.
We all know where you go and where you've been.
It's hard for me to comprehend it.
I have a fear the message
I hold dear is not quite clear.
For I had tears run down my face when you said,
"Silence, I don't need to hear it."

Let me go before I lose all control.



Artist Insight: Torture
Originally, I wrote this song was called 'Making Muziq'...it was a poetic, symbolic
expression of my sexual desire and frustration towards a man. It expressed a
woman's innate emotional response to her intimate escapades...our attachment
to the physical: a torturous endeavor if not met with equal affection.


---
*Rejuvenation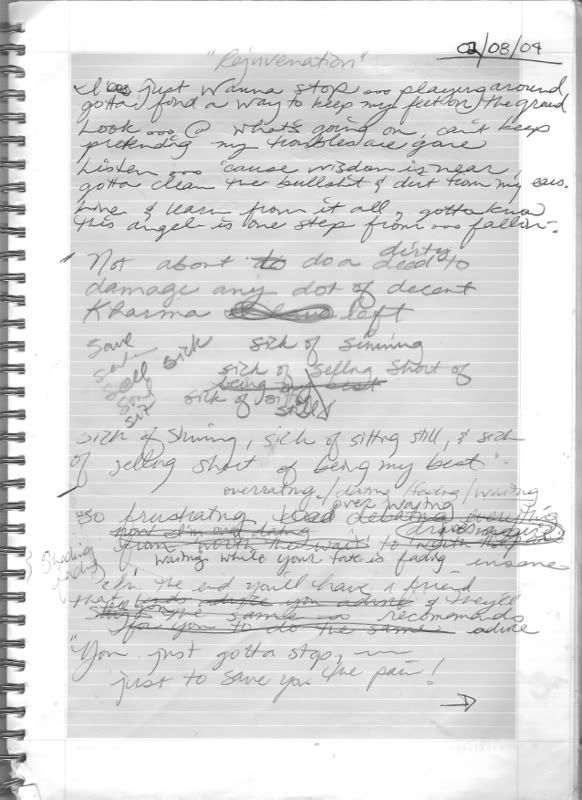 Rejuvenation
© 2004 Rachel Lynn
I just wanna stop…playing around.
Gotta find a way to keep my little feet on the ground.
Look…at what going on.
I can't afford to keep pretending my troubles are gone.
Listen…'cause wisdom is near.
I gotta clean all the bullshit and dirt from my ears.
Live…and learn from it all.
I gotta know this little angel is one step from…fallin'.
One step from…fallin'.
Not about to do a dirty deed to damage
any dot of decent Karma left.
I'm sick of sinnin', sick of sittin' still,
and sick of sellin' short of being my best.
It's so frustrating all the waiting and debating;
drives a girl insane.
But, in the end you'll have a friend to
recommend advice just to save you the pain.
You just got to stop…playin' around.
You gotta find a way to keep your little feet on the ground.
You gotta look…at what's goin' on.
You can't afford to keep pretending your troubles are gone.
Listen…'cause wisdom is near.
You gotta clean all the bullshit and dirt from your ear.
Live…and learn from it all. You gotta know that as an angel,
you're one step from…fallin'. One step from…fallin'.
I've been bad. Ohh…yes, I have. Yes, I have.
You better leave me alone. Leave me alone.
Or, you'll bring out the fearless relentless
temptress for which I'm known.

Artist Insight: Rejuvenation
I had never held my head so low. I was selfish, premiscuous, powerless and out of
control. I had to stop somehow, regain my bairings and finally become the best
version of the highest vision I had for myself. It was a time for self-realization...
for rejuvenation.



---
*Just the Way UR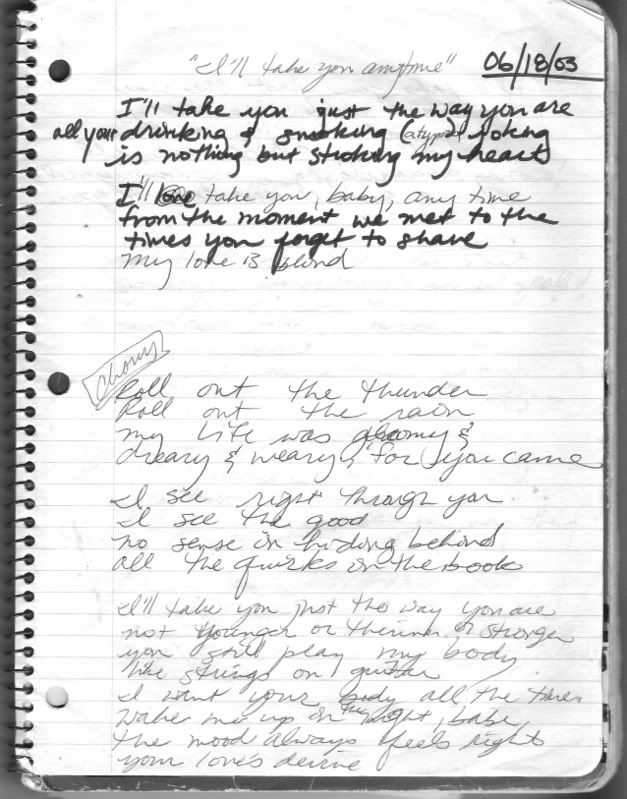 Just the Way UR
© 2003 Rachel Lynn


I'll take you just the way you are;
All your drinking and smoking, atypical joking,
is nothing but stroking my heart.
I'll take you, baby, anytime. From the moment we met to
the times you forget to shave, my love is blind.

So baby, please, roll out the thunder; roll out the rain.
My life was gloomy and dreary and dull 'for you came.
I see right through you; I see the good.
No sense in hiding behind all the quirks in the book.
'Cause…I'll take you just the way you are;
Not younger or thinner or stronger;
you still play my body like strings on guitar.
I want your body all the time.
Wake me up in the night, babe, the mood always feels right.
Your love is divine.
'Cause…I'll take you just the way you are;
But, the best thing about you, is you love all my quirks too.
All my snoring and boring analytical scoring is all the same to you.

Artist Insight: Just the Way UR
My definition of a perfect love is a love that accepts imperfection; When you
accept your lover for who they 'really' are and not for your projected 'idea' of who they
are. And when you are loved in the same unconditional light you experience a sensation that is
never forgotten nor taken for granted. It is the most perfect of loves...and it
all happens just the way UR.
---
*I Can't Let Go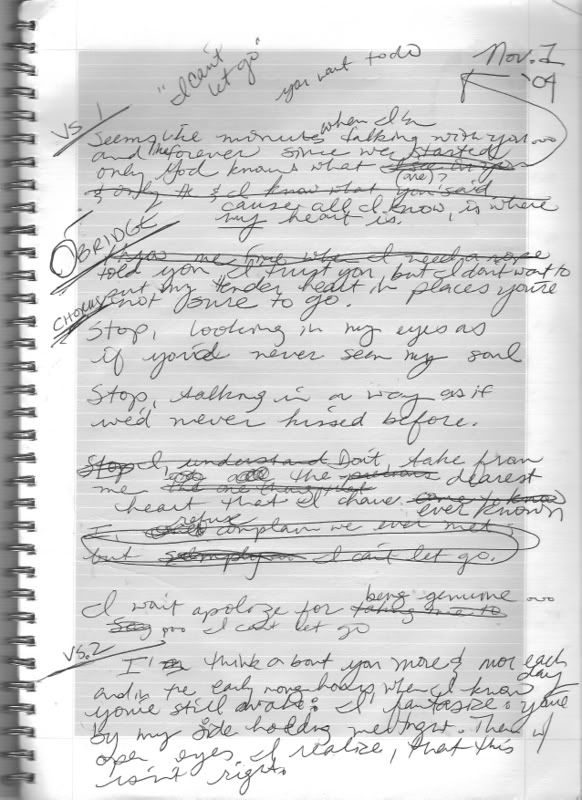 "I Can't Let Go"
© 2004 Rachel Lynn

Seems like minutes…when I'm talking to you:
And like forever since we started.
Only God knows what you want to do.
'Cause all I know is where my heart is.

Stop, looking in my eyes as if you'd never seen my soul.
Stop, talking in a way as if we'd never kissed before.
Don't take from me the dearest thing that I have ever known.
I won't apologize for being genuine…I can't let go.

I think about you more and more each day.
And in the early morning hours,
when I know you're still awake;
I fantasize you're by my side, holding me tight.
And then, with open eyes I realize; this isn't right.

Told you I trust you. But I don't want to
put my tender heart in places you're not sure to go.




Artist Insight: I Can't Let Go
The phone rings...my heart jumps. Maybe it's him. Maybe he wants to come over,
hold me in his arms and beg me to be in his life again. As a woman, I had never
been on the receiving end of the 'let's just be friends' scenario. I had never had to
look into the eyes of a lover and mutually pretend like we had never shared a single
intimate moment. I won't do it...I can't do it. I can't let go.



---
*New Day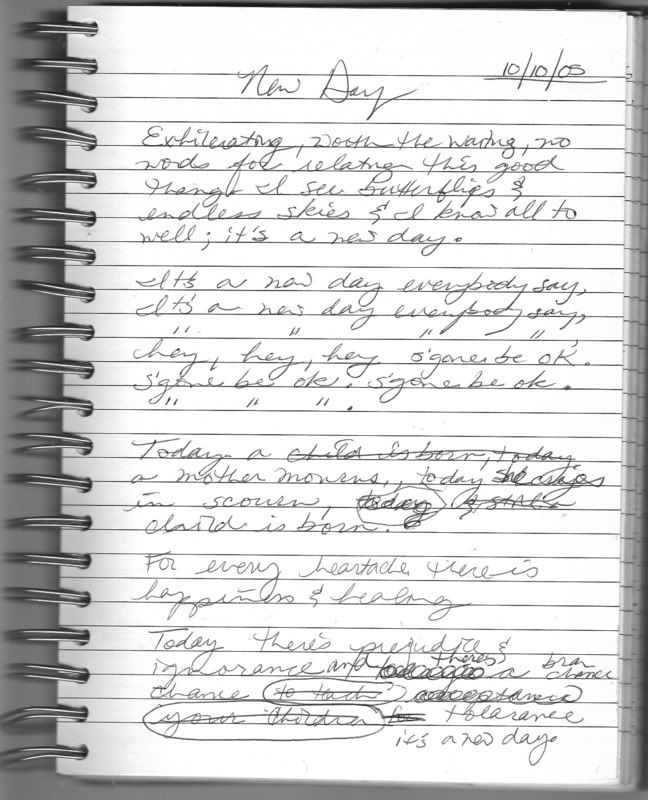 "New Day"
© 2005 Rachel Lynn

Exhilarating, worth the waiting,
no words for relating this good thang.
I see butterflies and endless skies,
and I know all to well it's a New Day.

It's a New Day, everybody say,
"Hey, Hey, Hey…it's gonna be O.K."

Today, a mother mourns;
today, she cries in scorn.
Today, a child is born.
Where there is heartache,
there is happiness and healing.
Today, there's prejudice and ignorance.
Today, you have the chance
to teach your children tolerance;
for it's a New Day.



Artist Insight: New Day
We are blessed as humans with the gift of free-will. We are allowed to choose
to be a positive influence on ourselves and others. Sometimes family issues,
loss of loved ones and personal emotional trauma, etc. can put a damper on our
attitude towards life and can make us question our very existence. But, God has
given us the unchangeable gift of a New Day...the blessed sunrise that symbolizes
the birth of a new light, new ideas, new love, forgiveness and change. Thank you God.
Thank you God. Thank you God.

---
*Misc. Lyrics
:
Mexican Rebel
© 2003 Rachel Lynn

She came from a little town in Mexico.
She dreamed of the freedoms sung by the 'Indigo Girls'.
She had a history of being wild and free singing
"Liberation is near!"
But, instead of hope she began to choke
from the chains of gender fears.
Laura La Loca como me tocas el corazón.
They think you're crazy, I know you're tired of fighting

all alone. Well, you're missing your Madre y también tu Padre.
But, there's no justice there. You can't stay here either;
Pride only dies here. Laura…say a prayer.
She worked in the back of a restaurant.
She only saw it as a stepping stone
'till she could do what she wants.
She never understood why she wasn't
good enough to conjure praise.
They told her, "Look alive or you'll stay past five.
You can forget that raise." Oh, Laura.
She came to the States to find a place to free her soul.
But, Laura found that bar abound everywhere you go.
She had to realize that for her to fly away with freedom's
wings. She'd have to finally learn and accept the terms
of what she knew herself to be.
She was a Mexican…she was a Mexican…a Mexican Rebel.